Photos by Teddy Williams for Bullet Music
This past Wednesday saw one of the more interesting collisions of culture, as the Strange Music crowd of rappers and fans took over Center Stage in Midtown, Atlanta. This was my first Strange Music show. I had previously seen Insane Clown Posse live, so I knew ahead of time what I was getting into. These are people from one of the most interesting and unrecognized subcultures who show up to an event like this. Although the crowd is mixed, these are mostly suburban or rural white kids who have found a voice in a frenetic brand of hip-hop which prides itself on its internal love of the "family." They maintain an angry and ugly exterior, which makes it difficult for anyone to really understand the culture until viewing it from the inside. I confess, when I first went to an ICP show, I was scared walking in. But as soon as I became part of the crowd, things instantly clicked. I realized I was in a safe zone for a lot of kids who don't have any other place to go.
For the most part, these are the disenfranchised kids of poor families who have been brushed off by the rest of America as "white trash." They have completely fallen out of the media narrative. Perhaps, the last media holdout that represents anything close to where they come from is Sons of Anarchy or Breaking Bad. But let's face it, most TV and movies these days are about people in cities with perfect skin and a gaggle of friends who look like they just fell out of a corporate stock photography shoot. Enter the juggalo. Or in this case, the Tech N9ne fan back with a vengeance to represent that middle-American experience like some hip-hop reincarnation of punk, goth, and stoner cultures all blended into one person. Everyone here is equally likely to have a bible verse tattoo as they are to have a Satanic star. This is diversity gone factorial. The security at Center Stage was stepped up in response to this new unknown. I saw people getting kicked out, not just for smoking joints, but even vaping anything that looked vaguely suspicious.
A Strange Music showcase is a long-haul affair with seven total acts - alongside plenty of support DJs, hype men, and live musicians. Opening up the night was local rapper, Tom P, whose main claim seemed to be the extraordinary speed at which he can rap. Because of their label master, Tech N9ne's style, a lot of the Strange Music artists like to show off their speed. Tom P was in a different lane and also made mistakes. I don't really care about how fast someone can rap, but it was impressive. Even if I couldn't understand a single word anybody was saying.
Another local, Gabby Gab, came on next with a much smoother flow and overall stage presence. I wish I could say the same for her three hype men, who mostly just stood around nodding their heads. One of them never even used his mic. It was more of a distraction than anything.
Ces Cru hopped on next, playing old-school hip-hop beats which got the crowd moving. However, the lyrics were hard to understand and didn't seem to be about much of anything of importance. This is where things started to shape up into the play that these shows ultimately become. Rappers began striking mean mug poses at the audience and bouncing around, waving fingerless-gloved hands in the air.
After Cres Cru, the crowd started to fill in, and among the heavily-tattoed and pierced, several more people with black and white face paint arrived. One guy had a steel-pipe pegleg. It seems relevant at this point to mention that every DJ table was draped with a Monster Energy-branded tablecloth. It was that sort of night. The merch tables stay busy all night long. They sold t-shirts and hockey jerseys ($130!!!!), alongside beer bottle openers, wallet chains, belt buckles, and neckties. There was no pretense in this crowd. They know what they're about and they love it.
Back in the arena, Mayday, a rap duo with live drummer and bass guitar, arrived onstage. Their act was actually quite fun, reminding me of throwback hip-hop pool parties and cookouts. Yet, after thirty minutes of their performance, it started to feel more like a parody of good days gone by, than a revival. Sunglasses never came off, and their carefully cut beards started to feel more Sugar Ray than Sugar Daddy.
Stevie Stone, another duo, quickly came on to keep things grounded with far more aggressive rapping and darker trap beats. They were the first act of the night that felt really authentic to me and like they were more concerned with having fun than looking cool. Their style of rapping is much more classic and involved a lot of battle-rap style back-and-forth between the two of them.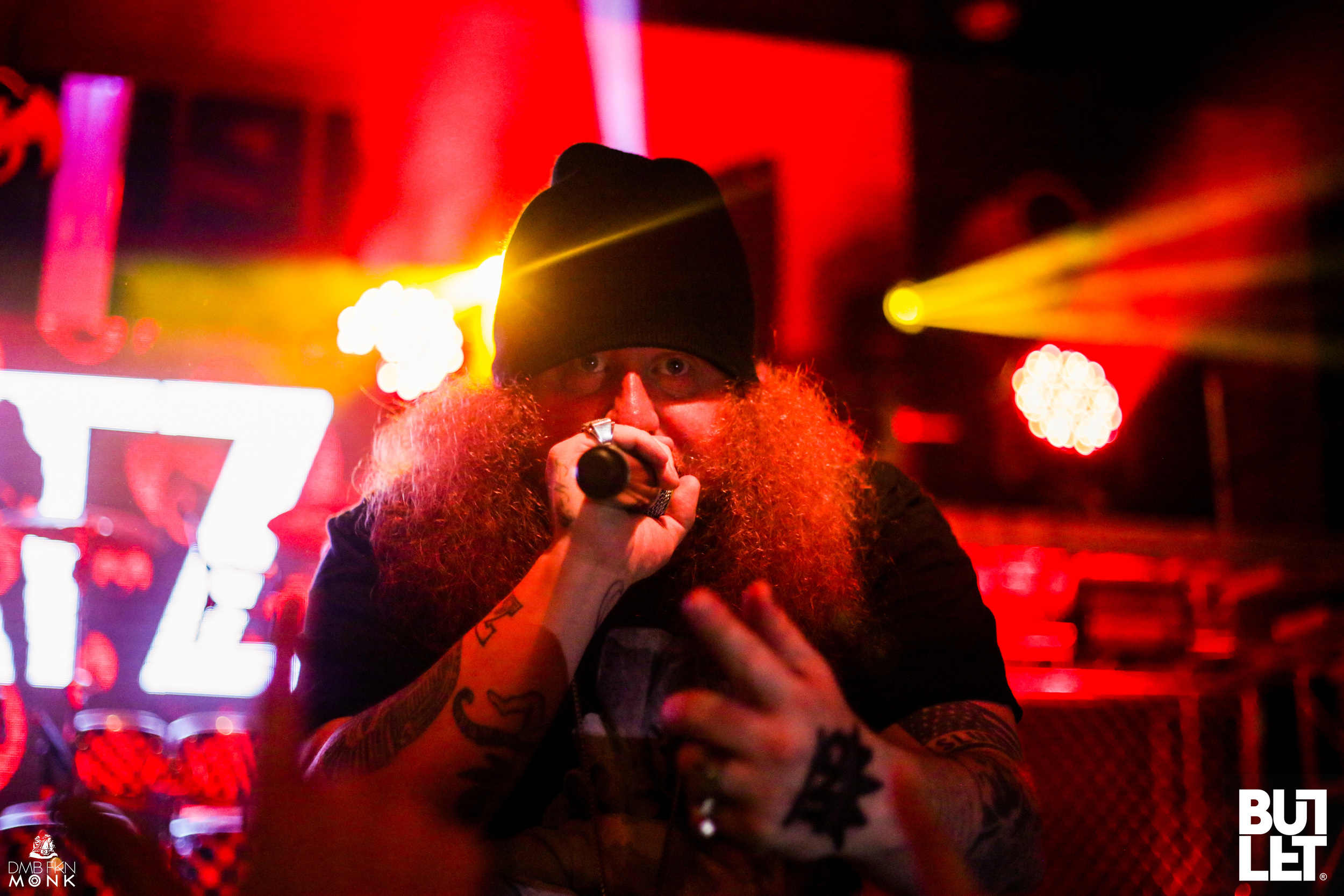 Gwinnett County local-ish, Rittz, came on stage next. With his long, red curls billowing out from under his black beanie, and his attitude marching like a shield out in front of him, he took the stage demanding everyone chant "Rittz bitch" over and over. All swagger and pose, his act seemed to be a bit desperate for attention at this point. If you know about his career, it's easy to understand why. He's been grinding away at hip hop since the 90s, and has never really gotten much recognition until the last couple years. Yelawolf and a few others have started to pay attention to him recently. Things seem to be turning around, but you can tell that he's had a long hard grind to get here and his exhaustion is beginning to show.
Of everyone there, Rittz appears to have the most dedication to what he does. To have spent this long hustling for a career proves that rap is what he wants to do above everything else. He came off as deeply appreciative to everyone there for showing him love. This is one slice of the new underground hip-hop scene, and it's very, very white. The whole thing seems like a race for legitimacy, with the white rappers trying to be as cool and chill as they can be, and the black rappers trying to get as hype and crazy as they can. It's cultural role reversal of a sort, but it plays out more as a blending than a game of copy-cat. Everyone here respects everyone else for their skills and personality, and color disappears in a wonderful, bizarre, way.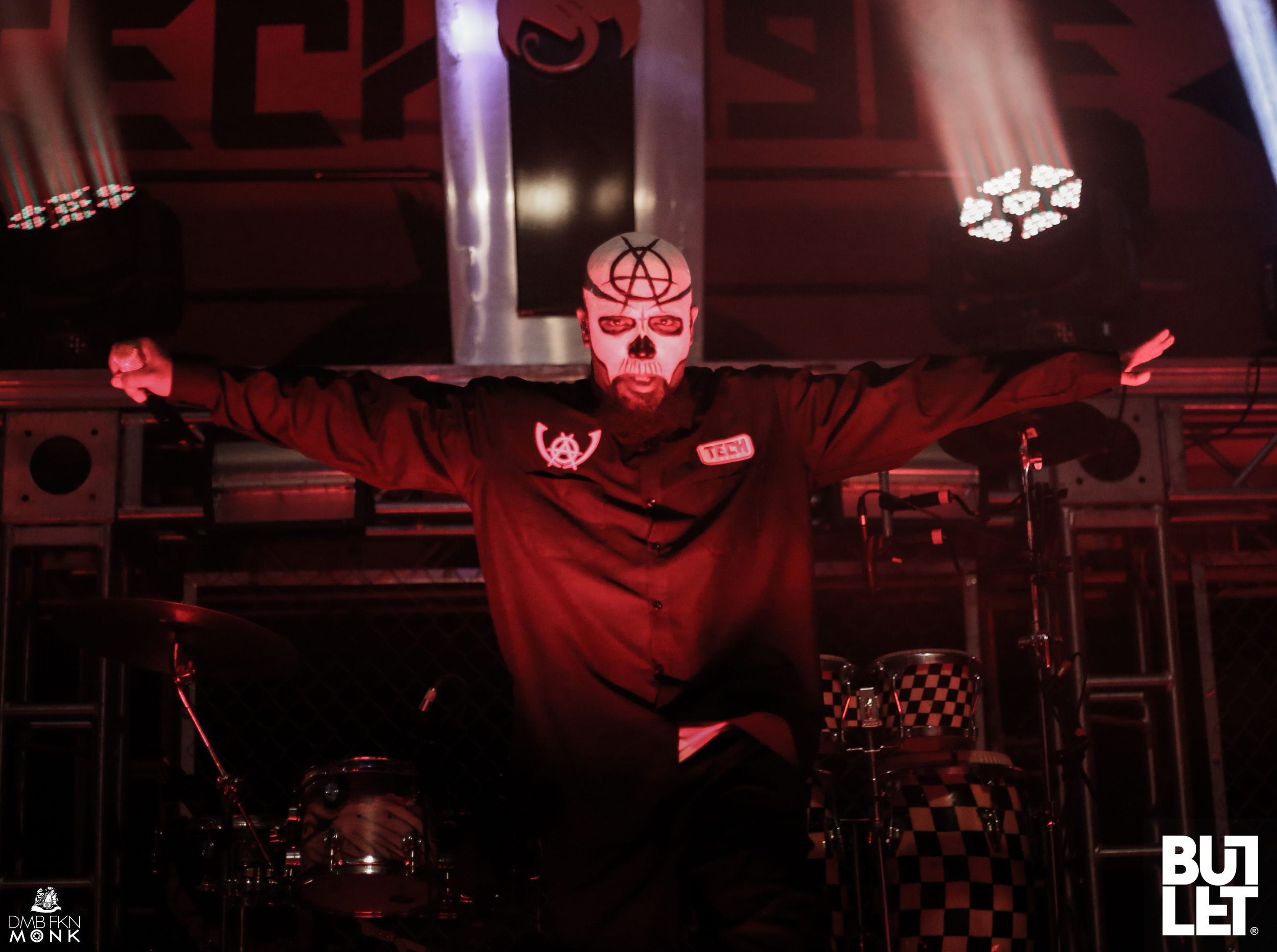 Krizz Kaliko and Tech N9ne took the stage together and performed in alternating turns of some of the quickest and clearest verses I've ever heard. These guys prove that rap can be delivered quickly but still understandably. You can assume this is why they lead the label and all its followers. They both wear Jiffy-Lube style shirts with their names embroidered on them, and the blue collar joke has its punchline. Tech N9ne's face was painted white in a skull mask that matched several of the audience members. It was now a freak fest in full bloom, as the rowdy mosh pit came alive.
Now everyone was either drunk or high, and things started to get weirder. Quote of the night came from Tech N9ne after being handed a strong drink, "That's gonna make my dick hard as fuck. I pray for the girl that gets it." The show ran overtime, and with no clear direction from the stage management. Tech just shrugged and told all the girls in the audience to get their titties out, which they promptly did. This is at Center Stage and all the security who were concerned about vaping during the early part of the show are now gone. Nobody was going to tell this audience what it could and couldn't do.
When the show was over, we all were shooed out by the staff into the rain and the wet street. Immediately, dozens of cigarettes sparked up, and people stood around talking about the show. I can't say I had the best time, or that I particularly like this kind of music. But it certainly was a family gathering of a sort and for a couple hours. I felt like I was part of something. My guess is that's what all the attendees were after as well.