The Mantras played at Terminal West in Atlanta on June 9 just before performing at The Riverbend Festival in Chattanooga. It was an impeccable 2 hour concert with a combination of different genres. It was quite pleasant to attend to a concert where every single member played a role with such a passion and focused on delivering a special experience. The attendees were eager to listen such a colorful concert with all those Progressive Rock, Funk, and Jazz sounds that The Mantras are well known for. The local duo Lucidea were selected to opening the night and they did not disappoint at all. With a pleasurable blend of electronic and pop-rock melodies, Lucidea indulged us with a great presentation allowing us to enjoy friendly conversations, a couple of drinks, and some moves in the dancefloor.
Prior to their concert at Terminal West, the members of The Mantras shared a few minutes with Bullet Music and answered a couple of questions about how they operate as a band and what is coming up next for them:
I know you guys were formed as a band in 2003 and you have over 10 years of experience. Tell us how long have you all known each other and how did you meet?
Bryan Tyndall: Keith and I first met in the music department in Greensboro in college and then Justin the drummer was a buddy of ours from the dorms, and started playing drums with us. Around the same time Brent, a friend of ours that was in another band around town, started playing percussion with us and then we met Julian. He was a friend of a friend and we got to know him pretty well, and he is awesome!
16 dates during this tour from June 9th through Sept 17th. It's 3 months on the road how you guys handle it being away from home and what are your expectations for this tour? Do you have a special anecdote?
Julian Sizemore: Well it's funny, sixteen dates in a couple of months is a really light for us, it is not as much as we are used to do during the summer, and the reason why is because right now we have a lot of time blocked out to finish the record that we are doing right now. So 16 dates, it kinds of seem like a lot, but is really light for us. It's like, kind of easy breezy on the touring, but we are really just concentrated this summer on trying to get this record finished up and get it out. We are really looking forward to do that.
Is there any a special moment you want to share with us?
All: It's Brent's Birthday Today!
With progressive rock, Jazz, and funky sounds among others, tell us where do you gather the inspiration from? Where does a new song start for you?
Keith Allen: It's been so many different ways that we have written songs. I don't know. It doesn't really work like that. It's all related to a one particular thing, everything that causes it and then happens, but we've written songs in probably about as many different configurations as you can think of, as far as ways of writing songs. So it really depends on the mood and the inspiration I have in the middle of a time or something like that. Sometimes we labor everything, sometimes they come together really quickly, so it really depends. Like all across the board…incredibly, I think.
Are you all song writers?
Keith Allen: I will say we are all song arrangers for sure. We all have our hands arranging the music. The majority of it gets written by someone usually and, then brought to the band and then we work as a whole band to make it work with the group. We all usually have some kind of influence in the way and direction of what happen to the tunes. There is a little input from everybody, it seems like usually are things that get written mostly by one person but, someone else can have an idea for something to contribute to. We are always arranging stuff like that.
Julian Sizemore: Somebody will have an idea, and then just bring the idea to the group and sometimes the ideas are more complete or less complete and then we just see what else they need…you know… like a pretty free flowing writing process.
Can you tell us about a particular musical element on The Mantras songs? How is your sound different from other progressive rock bands? What are those main themes or topics and do you think these topics change from time to time?
Keith Allen: What is one particular element? What do you think Julian?
Justin Loew: One element that is a constant throughout… Energy!
Julian Sizemore: I think like Rock and Roll you know high energy… Songs that make her dance!
Keith Allen: We are trying to convey some sort of emotion. With all the music that we play we don't tend to try to go for too much filler or anything like that, in most of the songs that we write, we tend to get rid of the stuff that is weaker and try to really fill on the stuff that is strong. I think that's all the things we're trying to do, we're trying to move the audience in a manner of speaking.
You mentioned you are in the process of mastering a new studio record, can you tell us a little bit more about it?
Brian Tyndall: Not too much to tell. I mean, we put a studio together in our sound man's house. We're tracking and working on it there. None of the songs are really brand new or have never been played before. We generally try to let our songs breathe and be themselves for a little while on stage, being played out live before we really solidify them and this is how the song is going to be on a record forever. So we've really never been a band that sits in a studio and writes the songs that are going to be in the album. So that is just a process of going in and knocking the songs out that we know and are well rehearsed and we are making it happen.
Julian Sizemore: We are trying to get this album done really quick… really quickly. Let's see how fast we can do it… So we can write the next one.
Keith Allen: We are literally trying to get it done as fast as possible. It's probably going to be done by the end of June. Actually, it will be done by the end of June. And then we are going to start working on our next one (album). Pretty much immediately after this release. We basically did a kick start last year to go to studio. We have our own studio to record our music, and we have our sound engineer who does all the sound for us at the live shows as well, as he can work his way in the studio. So we'd just be continuously recording music. But this one we are just trying to get out quickly, right now so it should be done very soon.
What is the hardest thing about being a band? What could be an advice for new artists who are starting in the music business?
Keith Allen: The hardest thing of being in a band? (Laughs) Like, never having any money. That is probably about the hardest thing that there is. That is something that everybody deals with. Money is very sensitive because we spend so much money to make this whole thing a reality so it all has to go back. We don't take as much as we maybe should. We put a lot of money back into the projects so it's really tough if you want to continue to grow the business. It is tough to pay yourself more and that kind of thing. So I would say for me personally money is definitely the hardest part of traveling. It's really fun to be out and playing music and stuff like that but, it's definitely tough when the reality sets in about your budgets.
Julian Sizemore: We have an accountant that is really nice, she is a really good, good person and help us keep everything, like how much are we spending, the stuff that we can spend on and what we don't have to spend on and all that, so it's pretty structured.
Any advice?
I would say to diversify. That's the biggest thing cause like you are struggling with the money and travel, and if you want to be out with original music, it's going to be hard. Money is going to be tight, and it's going to take forever. So just not to limit yourself. Do other things, something that allows you to do what you want. You know you go to your work because you love the job. So work hard and be patient.
What's the direction of the band? What are the goals for the near future and also in a long term? Any upcoming projects other than the album?
All: It's just stay together… stay together and keep going.
Julian: Real short term is to get this record out, keep touring and stay together because it's (the band) been through a lot of changes over the 12 or 13 years that it's been together. I only joined three years ago so I'm the baby of the band. So, I think the key is that we feel really good about the crew that we have together right now and it's just keep going, as long as we can possibly keep it going or as long as it makes sense and as long as we are having fun playing music together.
Brent: Yeah…Having fun is definitely a goal, having fun is a good thing, a good goal to have.
Keith: Another goal of our band is to have fun with each other. Ever since we've started we've been having a lot of fun so it's been nice. It's good to be able to have fun with music because like you said money is tough and that is the only real release you get. You know what I mean?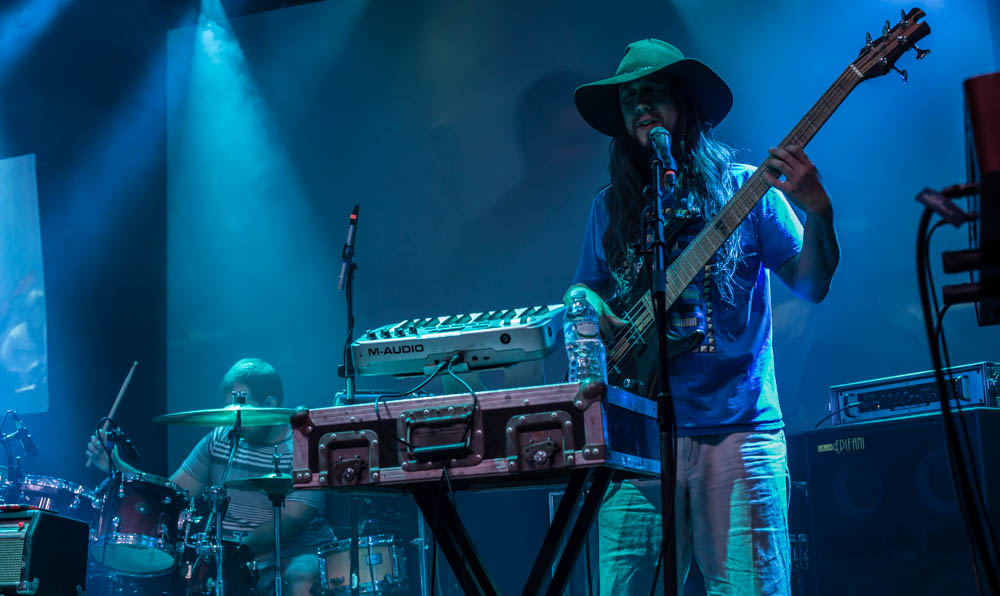 Photos by Missy Stowell.
Members of The Mantras:
Keith Allen (Guitar/Vocals)
Justin Loew (Drums/Samples)
Julian Sizemore (Keyboards/Vocals)
Brian Tyndall (Bass/Vocals)
Brent Vaughn (Percussion/Vocals)