Terminal West continues to provide a home for Atlanta's talent, as well as touring acts, so it's no surprise that local trap figurehead Mayhem chose it as the spot for his latest showcase. In talking to him, I learned that he had actually played there the night the venue first opened. He clearly loves the venue, and the rest of Atlanta along with it. Even though he was born out of state, he talks about Atlanta like it's his momma. We sat down with him to get his take on the changes happening in the local scene as well as the Trap/EDM world at large.
If you've been playing music in Atlanta since the late 90s, you've seen Atlanta change a lot. Right now Atlanta is growing, and changing quickly. What do you make of these most recent changes?
Atlanta's an incubator. It's a major city, with six million plus people, and there's so much influence, and vibe, and different lanes that are growing and being incubated in this city. There's a lot of cool energy. There's a lot of dope artists to work with on the graphics side, on the fashion side, on the music side with rappers, producers, and tons of DJs. There's graffiti artists. There's lots of different walks of life that involve art that are flourishing here right now. I think that the cheaper cost of living and southern hospitality play a big part in that. It's very welcoming here, and a lot of people who come to Atlanta, they don't want to leave. A lot of money's coming here, a lot of millionaires, a lot of the movie industry… it's crazy. So we're watching a renaissance happen in Atlanta right now. A lot of people, at least on the rap side, call it the "New Atlanta". You have the Outkasts, and the Goodie Mobs, and even back to the Bobby Browns and the MC Hammers who set up Atlanta to be a major musical force, but a lot of people now say that Atlanta's the most inspirational music city in the whole world, or appropriates the culture. It's influential, and that's dope. You can't ask for more. I attribute a lot of my success to being in a place where you see a lot of hustlers and grinders. It's the city too busy to hate.
Are you from here?
I wasn't born in Atlanta, I moved here when I was 7. So I've been here over 25 years now. It's in my blood, and living in the south. I was born in Knoxville, Tennessee, so I do have orange blood and I love it, but I grew up in Atlanta. It's everything for me. I couldn't imagine if I just lived in the middle of nowhere, racoon valley Tennessee like I was born. I think everything's on a real upward trajectory right now and it's a great time to be here. I'm glad to have stuck around for this part of the wave.
You have stuck around, and a lot of artists leave Atlanta once they get a little bit of success. Once they leave the incubator, they run to LA or NYC. Why did you stay?
I stay in Atlanta because I love it. I wouldn't want to live anywhere else. Only place I can even imagine would be Tokyo because I love Japanese culture, and I love the city. I want the super, major city lifestyle at some point in my life. Atlanta's dope, it's like a little town with 6 million people in it. Atlanta's never going to be incredibly dense just because we aren't landlocked by anything. We have no geographical boundaries like Boston, or LA, or Seattle, or Denver, or Chicago. Any major city in the states has a river, mountain, or coast to dictate their downtown core and the value of property. Being in the sun belt, being in Georgia, it's a lower cost of living, so you wouldn't see me move anywhere else.
You've been DJing a long time.
I was 15 when I started DJing. New Years 2000 was the first show I played for Glen Goodhand at Iris. So, that's a throwback that he's still around throwing parties, and Imagine Fest now is easily the biggest fest in Atlanta. I've been around a long time and I've seen the city go through a lot of different phases. Now more than ever, there's a dance music scene, and it was always segmented previously. I've definitely had my hand in segmenting it to a degree, because I ran Drum & Bass parties, and it was strictly Drum & Bass. But then I branched out, and I've always wanted to mix Atlanta's sound with other kinds of electronic music. The opportunity has slowly started to present itself so that I can work more and more with Atlanta artists. So, staying here is a no-brainer. I want to take that Atlanta sound and take it even further if I can. I want to push it to new markets, push the boundaries of crossing over the urban market and the EDM market, and have fun doing cool creative projects with guys who are open to not doing the same old thing.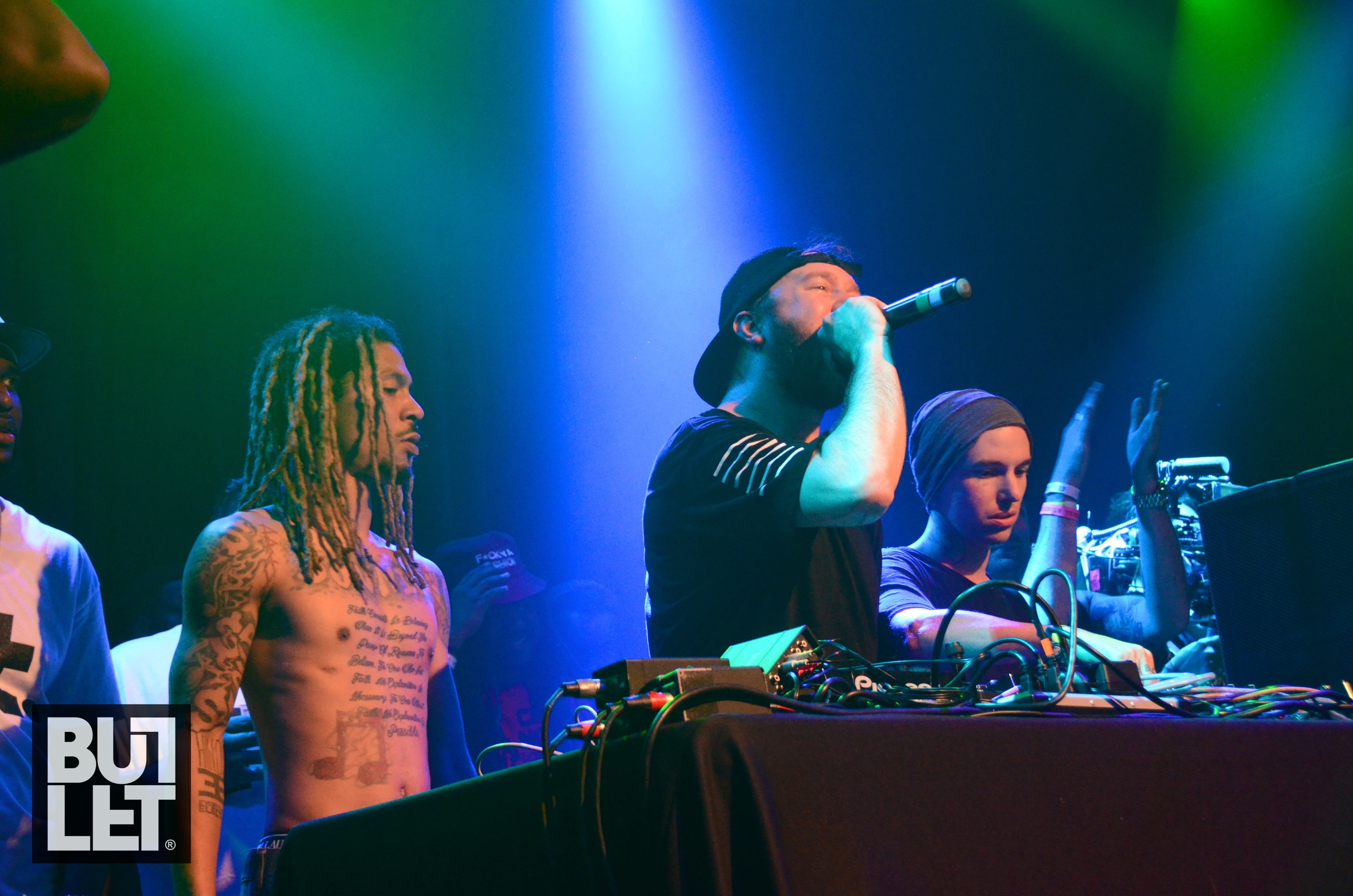 What do you make of the rise of DJ culture as a new form of celebrity?
It's a new wing of celebrity. Coming from the early 2000s, I knew it had the potential to become something that was way bigger than it was then. I wanted to figure out how I could someday get a Drum & Bass record on the FM radio here. "Bombs over Baghdad" by Outkast was so close to being a straight Drum & Bass record. All that stuff was very foreign, with UK grime style vocals. Outkast did it in a southern way, though. Those guys were fucking with drum & bass, and dance culture, in Atlanta specifically, but there's so much further that we can take this. So, I'm looking to just do more and more of that, and that's what I've been grinding on at home. Putting together as many records as I can, and collaborating with a lot of rap guys.
So you're making drum & bass?
The vocals are more UK rappers, so they have that grime style to them. Skepta's killing it, breaking down a lot of doors, but I've seen the waves and cycles. When the early dubstep stuff came out, it all synced to me that it was so close to rap sounding beats. It's all about 808s, sub-bass, and space. Rap has a huge appreciation for minimalism. It's not usually cited for that like techno is, but it's a large component of the genre. In Atlanta, snap culture, that was some of the most minimal music ever. It would be a lead sound, a snap, and a hat maybe. If the hat came in, it was like, oh shit, the whole record just switched. Drum and Bass is super inspired by hip hop breaks. It's all always been there, and I just wanted to push on that.
Who are some under-appreciated Atlantans in your opinion?
I don't want to call out any one person, but I've got to shout out Heroes and Villains. Giant inspiration in the whole EDM / Trap genre. Mantis, local boys, they're killing it, making super hard records. Debroka's another guy in Atlanta who's absolutely smashing it. There's too many guys to name. That's just naming three, but I hate to even name those three because I have so many other homies who are killing it.
Anything you want to plug?
What's definitely coming out next is a remix from Antiserum and myself for Brillz and Jvst Say Yes. We've done a lot of work together. We just put out an album together in October called "Seven Deadly Sins", so that's a larger body of work that I've released. Right now I'm working on a lot of compilations, a lot of rap stuff. I've probably got 7 or 8 mixtapes that are completely produced by me, 6 to 10 rap songs with elements of EDM, so I'm doing all these executive produced tapes. And we've got the "Seven Deadly Sins" remix EP coming out soon. I just grind. I do my best to rep the city.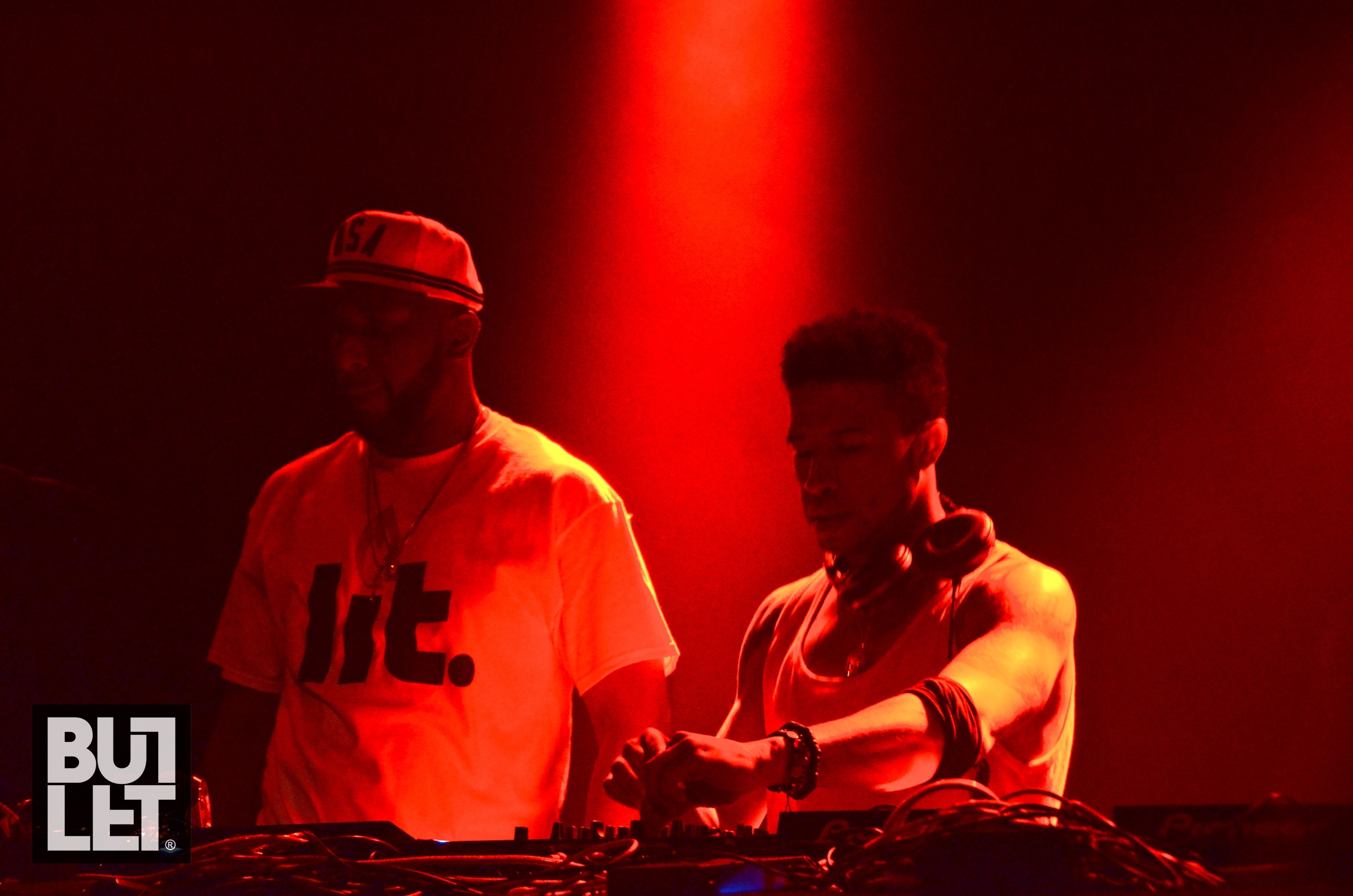 After speaking to Mayhem, I walked out to the sounds of local Werc Crew's Xavier BLK getting the night warmed up. He played a fairly mellow set that spanned genres and dipped into some modern experimental trap. I heard some deep cuts from Mr. Carmack and UZ that let me know he has an ear to the ground of the trap game. My only complaint was in his mixing, which was choppy and sudden at times. His musical taste was interesting and varied, but the technical aspects withdrew from the experience. I was sober and alone, so I had nothing better to do than scrutinize the music, but everyone else in the crowd seemed to really enjoy Xavier's set, and it certainly kept me interested the whole time.
Next up was Hoodrich head DJ Scream, a local namedrop who played much more of a traditional radio hip-hop set, but with clean and comfortable mixing throughout. On the whole, the music was not very interesting to listen to, as it was mostly just a recap of 2015/16 radio hits, without even remixes to spark things up. There is something to be said for the baseline of the Atlanta radio culture that has spawned the artists like Mayhem and given them a platform to experiment on. The most hilarious part of the experience was the hype man who acted like we were at the hardest party of all time, sloshing his beer around and jumping all over the stage until he eventually wore himself out. The stage slowly filled in with photographers, posse and friends of the DJ, a couple rappers, and the general gathering that occupies stages at hip-hop shows. Girls in the front row took copious selfies with the on-stage crew, posed for Instagram, and begged the hype man to take pictures of them. Everyone on stage and in the front row of the crowd was caught up in the same moment of celebration and vicarious fame that has begun to take over electronic events. As a note, I was in London last month, and at Fabric, if you take your phone out to take video of the DJs, a security guard will either knock your phone on the floor with a flashlight, or grab it out of your hand and refuse to give it back unless you promise to stop. It's pretty extreme, but at least it makes everyone be present in the room instead of chasing likes for later.
By the time everyone on stage had taken enough selfies and exhausted themselves of the turn-up energy, it was time for Mayhem to take the stage. The crowd went absolutely bananas. The faces of everyone on stage turned to surprise as they listened to trap anthems and bangers weave into each other without letting up. No radio hip-hop could compete with the energy Mayhem brought to the stage, and the crowd began tearing at the barricade in a way I haven't seen since the Masquerade's peak hardcore shows of the late 2000s.
After Mayhem had torn the dance floor apart with a very impressive and high-energy set of trap and dubstep, he brought out HXV for a mini-set, and then invited out several rappers he's been working with lately. It truly became a full showcase of Atlanta talent, with Mayhem at the wheel. As most rap events do, the evening started to dissolve by the end of the night due to a mixture of exhaustion and the sort of disorganized ego battles that most rap shows turn into. For real hip-hop fans, this isn't much of a problem, as the night feels less like a concert and more like a house party, but the crowd of EDM heads present that night began to slowly disperse as things wound down.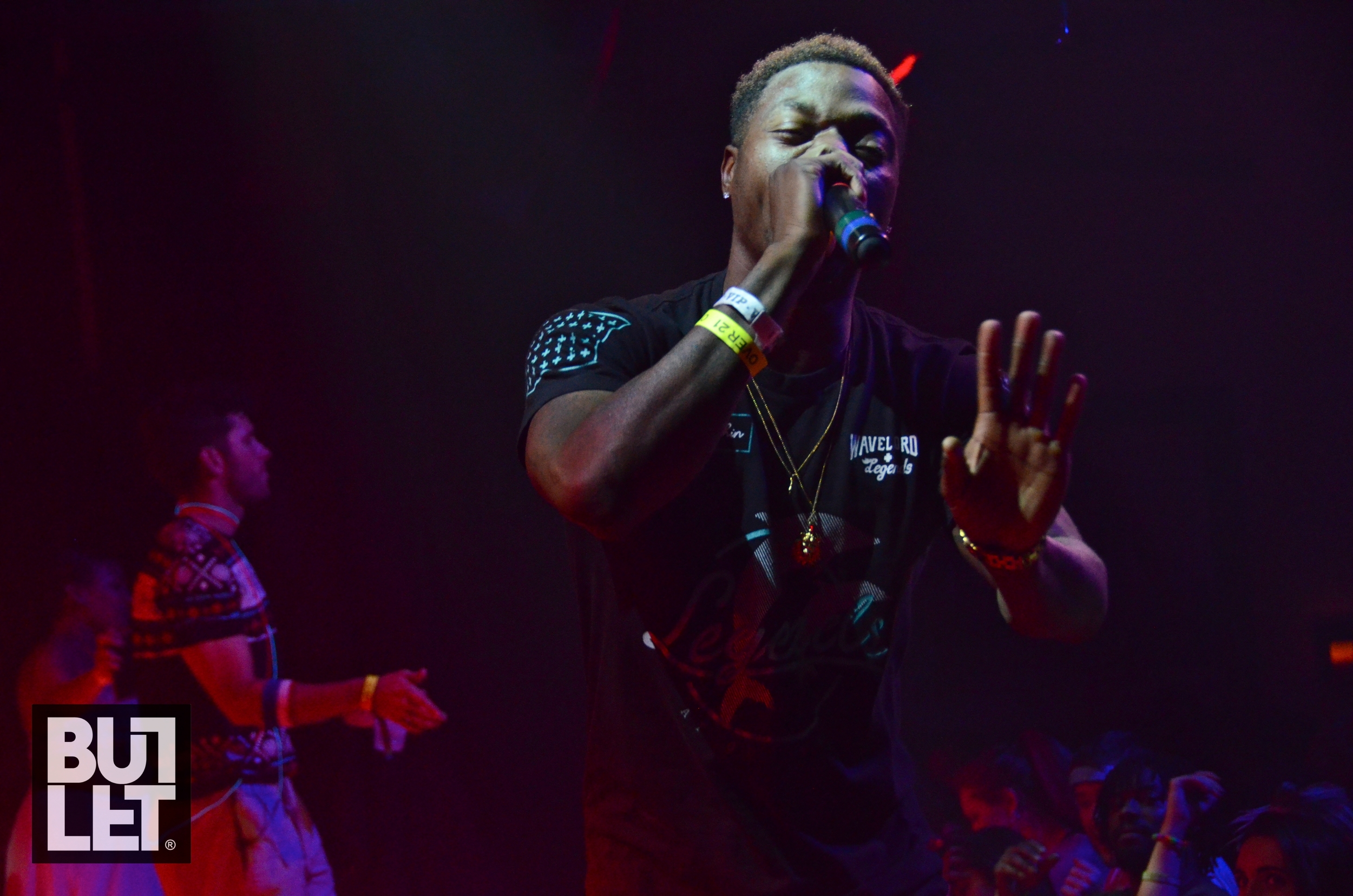 Mayhem represents a strong voice of new Atlanta as she leans into the global stream and cultures cross. I'm personally very excited to hear whatever new music he's cooking up. Although I have my reservations about the changes happening in the scene because I'm a stodgy old Atlantan, the new energy taking over this city is necessary and vital to our sustained growth and health. The crowd that night was one of the happiest and most energetic I've seen in a while, and that can mean only good things for everyone who shared the stage. As Mayhem says, there are many converging streams of energy in our city right now. Mayhem is just one player, but he's put in the time and work to deserve recognition and respect from the city. I have a feeling we're going to see a lot more of him in the coming months.