My weekend began on Friday afternoon, an hour and thirty minute drive from Jacksonville to Live Oak. My best friend was by my side as good company all weekend. This was a surprise to me, I had originally planned on trekking solo. As we arrived we immediately made friends with our camp neighbors. They were early twenties, UCF students, looking forward to a weekend of being in tune with Suwannee's nature and music. They carpooled with us down to the river, where everyone started to gather, and where I made a leaf crown for my friend.
The first set of the weekend brought the psychedelic sounds of Funk You (Augusta, GA) at the Beach Stage. During the set a drizzle started off, but it relieved the humid feel. The majority of the crowd was hooping and swinging poi. A group of mid-thirties women and men in their bathing suits passed around a pink, sloshing, half full wine bag and danced along. Everyone was revved up from the crowd favorite "Space Monkey." The rain increased and became more intense, as people of all kinds ran into the river. A mid-twenties guy with a snapback and no shirt on yelled out, "The Spirit of the Suwannee compels me!"
The Mantras were next on the menu. An older woman, in her 60's with an IPA in her hand, tried guiding her husband to the front of the stage as she was spinning around and around. Keith Allen of The Mantras, says, "This is our first Hatter's Ball, but I know you know how to get rowdy!" The whole crowd broke out in shouts and screams. Brent Vaughn lit up a cigarette and chiefed from it as he was banging the drums. A little boy, about the age of five in a Hawaiian print shirt, was hooping a hula hoop the size of him, and the crowd circled around in awe. As the sun started to set, Brent Vaughn remarked, "It's about dark enough for a dance party!" The crowd favorite was a cover of Michael Jackson's "Beat It." I watched as a brunette five-year-old girl in a black dress, mimicked swaying a fan with a woman who was dressed up and painted as some form of a dragon or crab.
Earphunk continued the vibe, gathering up a rampant crowd. I watched as a mushroom hat on a young male bobbed up and down in the crowd. There was a mystery person who joined the crowd with a grandpa mask on and their friend was a young humorous male in an inflatable dinosaur suit with legs at his hips, making him look as if he is riding a dinosaur. The almost full moon hid and shined through the wispy Suwannee tree branches. "Phine" started to play and the whole crowd had their groove step flowing. A dance circle formed and a mid-twenties guy with skinny jeans and a hat decked out in pins ended his break dance on his arms with his legs in the air, a move which the dance circle couldn't compete with. Then Earphunk hit us with their rendition of Phil Collins' "In The Air Tonight," and a feeling of adrenaline hit every mad hatter. We were at full groove maximum, singing along. Just when we thought they couldn't hit us with anymore feelings, they pull out of their hat a Led Zeppelin "Kashmir" cover, shredding like it's no ones business. It left us in ultimate wonderment.
Papadosio brought in all types of hippies. They played their new song "Breeze" as an octopus made out of balloons floated atop the crowd. Papadosio was the perfect mesh of jazzy vibes rejoicing through our bodies and then led us back to life from a trance by hitting us with kicked up jams. Glow sticks and balloons were thrown in the air, and an incredible light show bounced around all of the trees with slight images and a smokey atmosphere from the fog machine. A young guy with his squad held up an egg shaped lamp that changed colors and made his way to the front of the stage adding to the kaleidoscopic mood. A nice breeze started to carry us back to the stage as the crowd lingered in different directions. Anthony Thogmartin announced "This next jam is for Rachel!" and they played "You and Yourself."
The morning rolled on with an overcast day as we made our way to the beach stage and supported our hometown group S.P.O.R.E. You could find the majority of hatters lounging in the white sand with their donut, popsicle, unicorn, and pizza floats. Our next venture was to make our way to The Hip Abduction. This crowd was filling in with St. Petersburg regulars. David New tells us that they spent all night traveling from Wisconsin to make their way to Purple Hatter's. "We didn't even get to eat cheese. No sleep till Lake City." I could plainly see he was worn out but he marched on to the radiant island sound of his band. He then declared, "This one goes out to Orlando!" and then they played "Stand Up For Love."
The Polish Ambassador was my next experience. Saturday absolutely had the massive powwow of mad hatters. A bald man about the age of 40 had a two and a half gallon water jug on his right shoulder and joined the crowd as he offered spouts of water. It is festival moments like this that make me most thankful. David Sugalski played "No Diggity" and the whole mass chanted smoothly along to the boogie. He unzipped his gold suit to reveal a silver suit underneath. He transported the majority back into their dancing shoes by rejoicing along to Sister Nancy's "Bam Bam." Then he conducted the bang with The Fugees "Ooh La La La."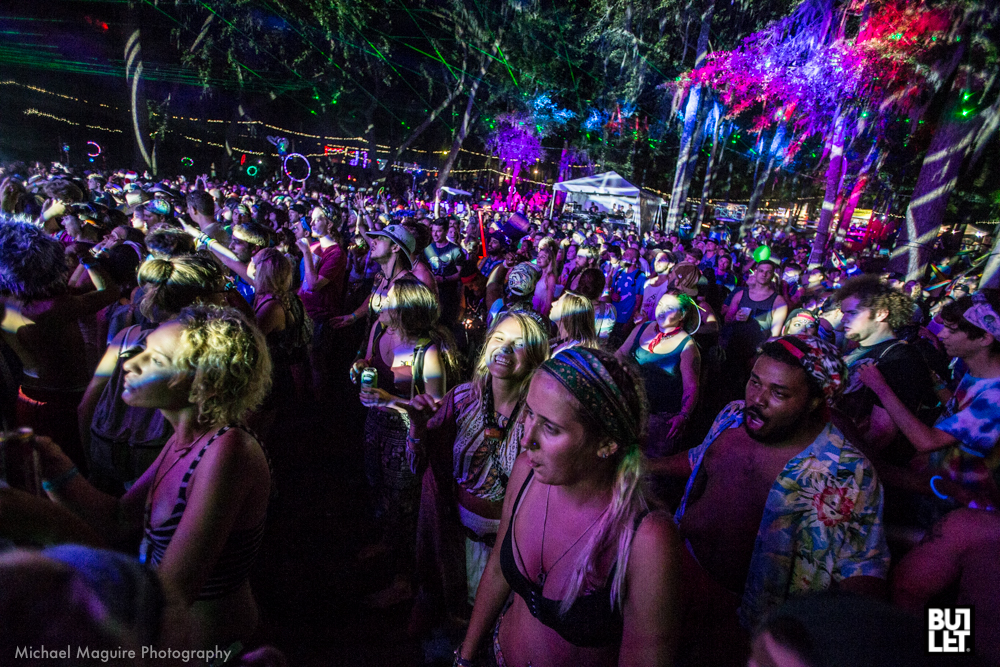 The ultimate crowd is rallied. The Floozies are about to make their grand entrance. My best friend and I were sitting by the most interesting of circles. The majority of them were millennials, hyped up on more than just good ole party juice. A girl with her hair in a high ponytail and glitter under her eyes exclaimed, "This all blew around my car from the A/C before I got here." The guy she was talking to was squatted with squinted eyes and a sarcastic demeanor with the reply, "I just had the same problem." Lights from the stage shot across as The Floozies slid across the Amphitheatre Stage. Prisms of rainbow colors moved up and down in waves across the trees and all in the vicinity. The herd all roared to an electronic robot groove version of Bon Jovi's "Dead Or Alive." Another favorite was Queen's "Fat Bottomed Girls," a karaoke favorite that no soul can help but belt along to.
Sunday morning was yet another beach session with what was left of our newfound hatter friends. As I observed my surroundings and soaked up what was left of my Purple Hatter's experience, I couldn't help but overhear the perfect description of the weekend: A dreaded gypsy with blonde hair ranted about having to get back to selling his wares, but he was contemplating staying another evening under the Suwannee stars. The girl sitting next to him in a triangle shaped bathing suit top and eccentric oval sunglasses replied, "Money comes and goes, but fun times are once in a lifetime."