Following on the success of the Shaky Knees and Shaky Boots (now on hiatus) festivals, the organizers of those festivals decided to tackle the EDM and hip-hop community, and the Shaky Beats Festival was born. It brought together a diverse crowd, and a lineup so varied that almost anyone could have had a good time. I remarked to a few of my companions that weekend that this felt like a "lifestyle festival" without any clearly defined focus, but still loads of fun for anyone who enjoys outdoor music events or festival culture. It's also another example of the sorts of events that are turning Atlanta from the secret "Jewel of the South" into a thriving global city that demands attention.
Friday
We arrived in time to catch the last ten minutes of Jai Wolf, who was playing an epic mix of future bass and trap. From what I heard, and what other people told me, he put on a great performance. As one of the very few EDM stars from the Indus region who has gained success around the world, he is primed to grow his career much further over the coming years. We quickly moved our crew and set up camp at Classixx where we sat on blankets and enjoyed the sunshine. Yeasayer played psychedelic rock, and even though I had been enormously excited to see them after I last saw them in 2009, I was disappointed this time around. They just didn't put out enough energy for me to latch onto. Duke Dumont played a bouncy house set that had the crowd moving and was almost reminiscent of Oliver Heldens, but Zhu surprisingly underwhelmed. I think volume on his stage might have been an issue, but I felt like he played the line between chill and party music in a way that didn't fit a festival stage.
Major Lazer blew the roof off with cryo-cannons, fire, sparks, and all other manner of visual distraction while their stage dancers wiggled around to the beats. Always a fun show, they kept the energy way up, taking turns on the microphones, turntables, and hyping the crowd up. The whole thing felt like a rehearsed show that they are comfortable doing every night, so it wasn't exactly an emotional musical journey, but it sure was fun.
Saturday
Tory Lanez was our first act of the day on Saturday. Like a lot of young rappers, he spent way too much time talking and not enough time rapping, but once things did get going, they went nuts. Tory rode the crowd like a rockstar, and even climbed up on the lamp poles that stuck out of the swarm. We stuck around at the same stage after his show for Marshmello, who played an entertaining though somewhat erratic set. I didn't get the feeling of any sort of organizational journey or arc in his set as we bounced around from genre to genre, but his skill as a turntables was undeniable. Towards the end of his set, he brought out special guest Waka Flocka Flame who performed a special set of trap favorites while running through the crowd with a bottle of champagne. I would say on the whole that Marshmello is a great EDM DJ, even if he's not a jaw-dropping artist. The end of his set was the best part, as he (neé Dotcom) threw down hard dubstep finished off with his new anthem "Keep It Mello".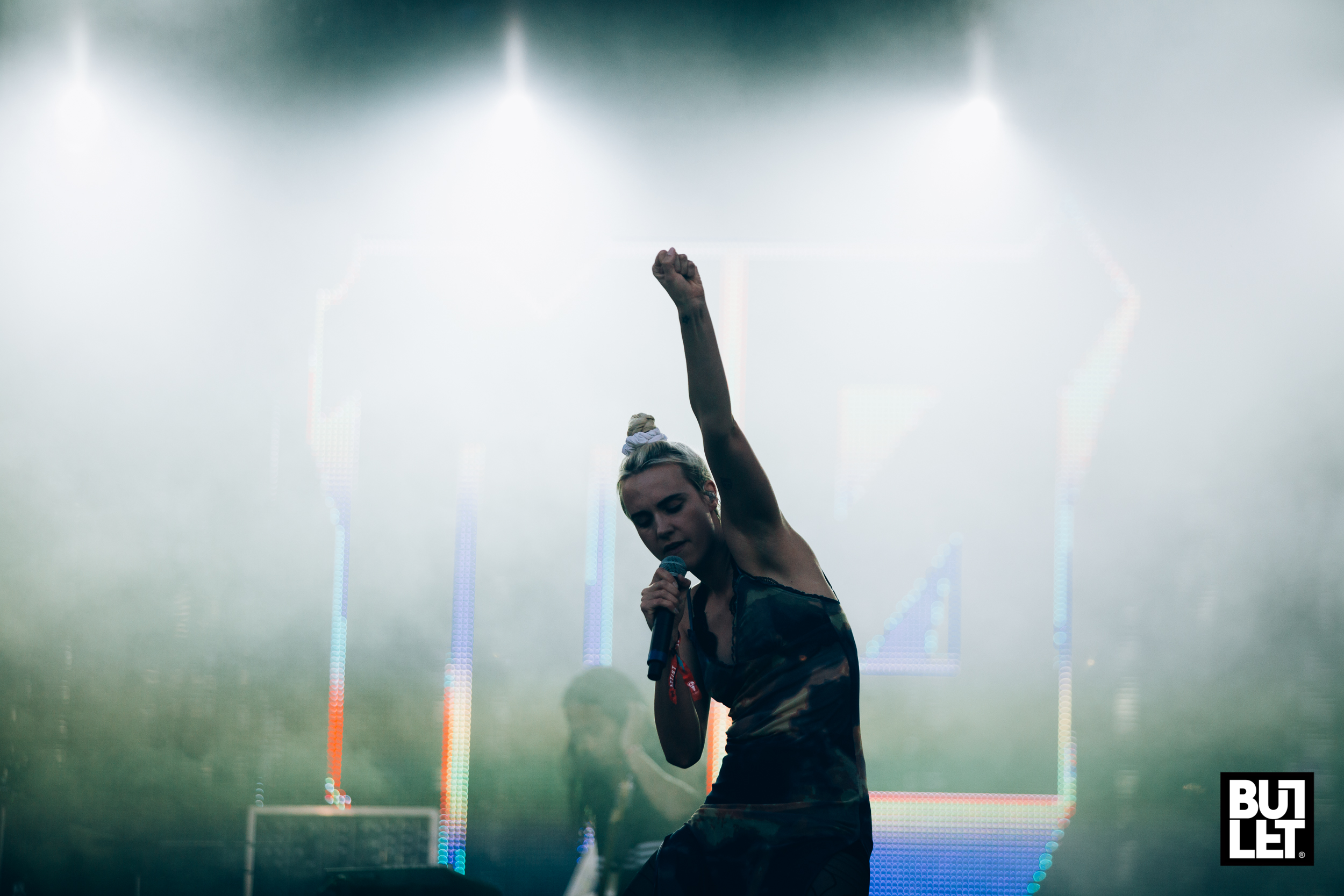 For what little I saw of MØ's set, she seemed to pour her heart out on stage. I wished I had heard more of her, but there was so much going on. Trippy Turtle (aka Lido) held down the small stage at the back of the festival playing an open-format set that was some of the most fun I had all weekend. In what was just a pure show of DJing skill, he had the crowd bouncing around to every genre and tempo with lots of humorous edits and samples thrown in. I didn't see Chromeo, but I was informed that they played an incredible set with most of their stage equipment covered in Chrome, reflecting the light back out in disarray. Apparently, it was quite trippy for some of the people who told me about it.
Porter Robinson called me back to main stage, as he was one of the main acts I had hoped to see that weekend. His 2014 album "Worlds" was my favorite LP that year, and I had been telling all my friends about his genius, so we gathered as a crowd on the hill. I can't adequately express how amazing his set was, but the most impressive factor was the amount of control he had over every element. The video behind him and all the lights moved in unison to the audio, which he had full control over. He even teased us at one point by intentionally skipping around in the audio and glitching the video in the process. It was a monumental display of animation, dramatic 3D rendered effects, and beautiful music woven together into an epic emotional adventure. Odesza closed out the night with a gorgeous, thundering music that actually got a lot harder than I expected. Their visuals were gorgeous abstractions of liquid and fractal patterns that provided a psychedelic backdrop to their swelling anthems.
Sunday
NGHTMRE drew a massive crowd to his set, and he deserved every fan there that day. His skill as a DJ was unmatched by anyone else all weekend, and his cuts were so clean and tight that the crowd never stopped jumping and screaming. It was one of the most fun performances of the weekend, and I look forward to watching him achieve continued success. A$AP Ferg took the main stage due to some schedule changes, and played a really excellent hip-hop show. Yellow Claw were fun if you like pop trap, but it wasn't for me. I wandered over to Nas to see him deliver classic rhymes and timeless advice to the audience. Seeing a rap OG like that is a special moment, and Nas' performance was emotional and full of love that everyone could feel.
Back on the smallest stage, HXV was laying it down with a set that started off with a lot of trap and hip-hop, and eventually became a driving techno maelstrom. It was a great musical journey and kept me begging for more heavy bass. On the way back to the main stage, I walked past Carnage, but I can't get into his chaotic, attention-deficit sets. I'm sure it was fun for all the Hardcore Trap heads, but I was happy to go set up early for Big Gigantic.
I've seen Big G a few times, but this show was by far the best in my experience. Their massive video wall played awesome visuals and they played harder dubstep and electro than I'm used to hearing from them. Even when they stray into harder genres they always keep things groovy and playful with the saxophone solos over everything. As special guests, they brought out Big Boi for a few songs, and were even joined by a local Atlanta drumline. Things ended early on Sunday, but the crowd left happy and exhausted.
Shaky Beats was loads of fun, drew huge crowds to our city, and was very safe and well-managed from my perspective. I can't wait to watch this brand grow and return next year
Photos by Ryan Purcell